IJzeroxide geel CAS 1309-33-7
Geel ijzeroxide , chemisch Fe (OH) 3, een bruin of roodbruin poeder of een donkerbruin vlokvormig neerslag of colloïde, gebruikt om pigmenten en geneesmiddelen te maken, gebruikt als waterzuiveringsmiddel (colloïd) en ook gebruikt als ontgiftingsmiddel voor arseen. Bruin of roodbruin poeder of donkerbruine vlok, onder bepaalde omstandigheden is de dispersie een colloïde. De dichtheid is 3,4 tot 3,9 g / cm3. Het is biseksueel, maar de alkaliteit is sterker dan zuur. Het nieuwe ijzerhydroxide is oplosbaar in anorganisch zuur en organisch zuur en ook oplosbaar in hete alkali.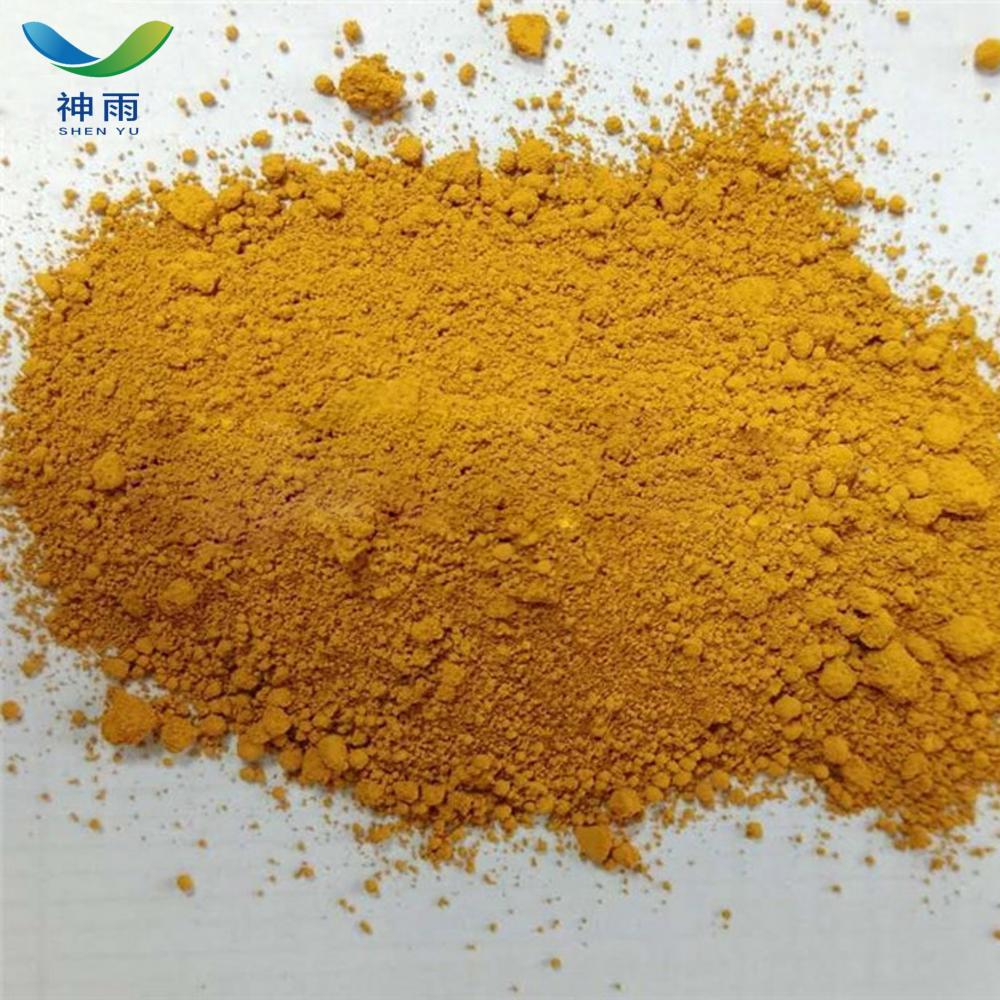 Voorzien zijn van:
Hoge zuiverheid
Lage prijs
Snelle delivey
Goede service
Geel ijzeroxide Productdetails:
Nederlandse naam: GEEL IJZEROXIDE
Engelse synoniemen: Fe (OH) 3; IJzerhydroxide (Fe (OH) 3); ijzerhydroxide (Fe (OH) 3); irontrihydroxide; FERRISPEC (R);
CAS: 1309-33-7
Molecuulformule: FeHO2
Molecuulgewicht: 88,85
EINECS: 243-746-4
Vorm: kristallijn
Geel ijzeroxide applicatie:
1. gebruikt als farmaceutische preparaten, waterzuiverende agentia, en ook voor pigment productie.
2. gebruikt bij de vervaardiging van geneesmiddelen, pigmenten en als tegengif voor arseen. Het kan ook worden gebruikt als katalysator, waterzuiveringsagent enzovoort.
Geel ijzeroxide Let op:
[Opname]
Als het slachtoffer bewust en alert is, geef 2-4 kopjes melk of water. Zoek onmiddellijk medische hulp.
[Inademing]
Verwijder onmiddellijk de blootstelling aan frisse lucht. Krijg medische hulp als hoest of andere symptomen verschijnen.
[Huid]
Krijg medische hulp als zich irritatie ontwikkelt of aanhoudt. Huid spoelen met veel zeep en water.
[Ogen]
Spoel onmiddellijk de ogen met veel water gedurende tenminste 15 minuten, waarbij u af en toe de bovenste en onderste oogleden optilt. Zoek onmiddellijk medische hulp.
Opslag: Vermijd contact met oxiderende materialen. Bewaren op een koele, droge, goed geventileerde plaats verwijderd van incompatibele stoffen.
Pakket: 25kg / Bag
Andere gerelateerde items van ons bedrijf:
1. Elementaire organische chemicaliën
2. Anorganische chemicaliën
3. Farmaceutische tussenproducten
4. Dagelijkse chemicaliën
5. Actieve farmaceutische ingrediënten
Product Categorie : Pigment en kleurstof